FILL OUT THE FORM TO SEND AN EMAIL
EVENT DETAIL
Light+Building 2018 - BE SMART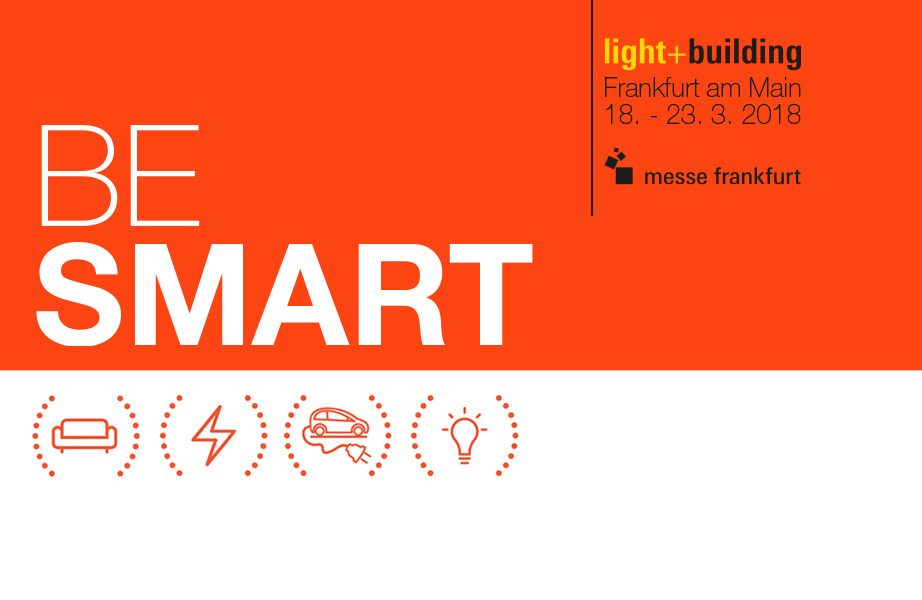 LIGHT+BUILDING 2018: the world's leading trade fair for Lighting and Building services technology.
Digital future meets design hotspot: about Light+Building addresses the name of tomorrow.

From 18 to 23 March more than 2,600 exhibitors will be presenting their innovative products in the fields of lighting, electrical engineering as well as home and building automation in Frankfurt am Main.
Light+Building product segments
As the world's only trade fair to combine the fields of architecture and technology, Light+Building presents the key sectors for integrated building planning at the same time and place:
LIGHTING: Light + Building represents the world's largest stage for the lighting market. The total spectrum of exhibits includes designer luminaires in a variety of styles, technical luminaires and lamps in various forms and for all kinds of uses, as well as a huge range of technical lighting components and accessories, including outdoor and street lighting.
ELECTROTECHNOLOGY: With its central, cross-sector technologies aimed at overall, integrated solutions, electrical and electronic engineering occupies a key position within building services technology. And it is only at Light + Building that you will find electrical and electronic solutions presented in the context of the work of other trades, such as lighting and home and building automation.
HOME AND BUILDING AUTOMATION: Because it combines all technical trades, the automation of buildings plays an important role in the overall picture: the increasing networking and digitalisation of electrotechnical installations enhance the quality of life both at work and at home.
On one 208 square metre stand located in Pav. 8, Stand A30 GEWISS will display its flagship products
from its Domotics, Power and Building ranges.
A second exhibition space of 195 square metres located at Pav. 5.0, stand C70 will host the LED products which drive GEWISS' Lighting catalogue. Solutions for indoor and outdoor environments, industrial contexts, commercial buildings (such as retail outlets and public buildings) and for sports facilities, as well as street and emergency lighting will be on show.
GEWISS identity imbues with Italian-styled design.
Experience the flair by sharing a lunch buffet with us. We look forward to getting in touch with you!
Join our Italian Gourmet Lunch, register now:
DATES
Date from
hours
to
hours
City
Address