FILL OUT THE FORM TO SEND AN EMAIL
Create your account MyGewiss
Insert your personal data
Welcome to your account
Enter email and password to access your account
SERIES DETAIL
40 CDe range Enclosures and distribution boards for specific standards
The range of enclosures and distribution boards for specific country standards: 40CD French standard enclosures (IP30) also comprising the Home Networking Enclosure VDI; German standard enclosures comprising 40CDK - IP65 watertight with flanges for the quick introduction of cables, and 40CDe IP40 enclosures for home surface-mounting, brickwork flush-mounting and plasterboard flush-mounting. Completing the range are the Spanish standard enclosures 40CDe - IP40 with blank and transparent door and without door.
40 CDe - Spanish Standard surface-mounting and flush-mounting enclosures
Flush-mounting enclosures with door - IP40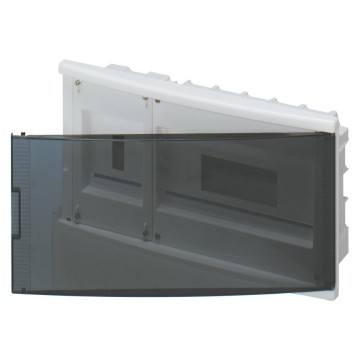 Distribution boards to house ICP power limiting circuit breaker sealable - In=40A - Smoked transparent door
Gewiss Code
Door colour
No. EN 50022 mod. ICP sect.
N. EN 50022 mod. CB section
Outer dim. LxHxD (mm)
R.U. 1407-D Classifications
40 CDe - German standard flush-mounting enclosures
Distribution boards metal door - IP40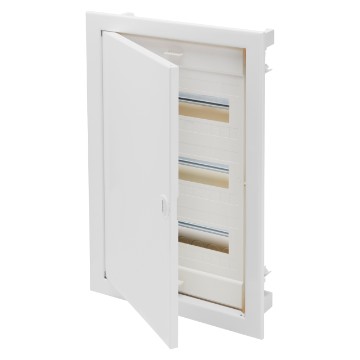 Distribution boards for plasterboard (GWT 850 °c) walls equipped with bipolar terminal blocks - RAL 9016
Multimedia enclosures metal door - IP30
Multimedia enclosures for brick walls - RAL 9016
Multimedia enclosures for plasterboard (GWT 850 °c) walls - RAL 9016